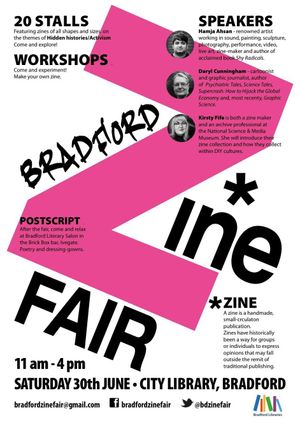 Bradford City Library is an inconspicuous building. Based in Centenary Square, this sleepy institution is cloaked by corporate cafes, busy bars, optimistic street vendors and children playing in the fountain. Despite its unassuming presence, the library still offers a helping hand for much of the community. 
Talk a walk around your public library and you may no longer find hordes of hungry literature fanatics, devouring all flavours of the written word. However, you are likely to find people making use of services that are being pulled further from their reach. People seeking work write curriculum vitae's and the elderly make a desperate attempt to become computer literate as more & more services disappear from the high street. The library may no longer be the heartbeat of the community but for many, it is still a vital organ. 
It is in the City Library that the Bradford Zine Fair takes place. Bradford is one of the most multicultural cities in the north of England. Since a post war surge in immigration, different ethnic groups have lived side by side. The process of integration has not always been peaceful but it has been predominantly stable since the 2001 race riots. Zines and independent publishing thrive in areas where diversity creates a quiet tension and people crave an outlet for their opinions, experiences and emotions. 
As you head up to the first floor of the library, you are presented with a small but exciting selection of tables and stalls where Bradford's diversity is represented. The selection of zines, books and artwork may not be massive but there is enough variety to draw the attention of attendees and library users. Music, politics, LGBTQ+ culture and art are well covered with publications such as How Do We Get Through This? which offers readers an optimistic route through austerity and Shariah Don't Like It…?,  an overview and examination of the Indonesian punk scene. 
All of the above make fascinating reading and are an essential part of zine culture. However, one of the joys of attending zine fairs is finding the curiosities…the zines and publications that have you reading about topics which would never normally tease your consciousness. Thanks to the zine fair, this writer spent his evening studying the process of dying in B Is For Bodies from Claire Industries. 
A sense of local personality is brought to the occasion by writers and illustrators such as Mike Barrett and Khair Din. Barrett's surreal tales of roaming wild beasts and genocidal cults are laugh out loud funny. His comedic writing offers a subtle commentary on the deprived areas of the city. Khair Din's story A Teaspoon Of Shampoo is published by Bradical, a group which aims to expose writing by brown people in the city. 
Three talks take place during the day, the first of which this writer is able to attend. In a cosy lecture room, Kirsty Fife offers a useful assessment of the zine collection at the National Science & Media Museum. Fife is clearly devoted to independent publishing and this enthusiasm shines through her presentation. When discussing publishing relating to pirate radio, Fife sparkles with excitement. She gives an illuminating insight into one zine's willingness to discuss sexuality and race in broadcasting. It is encouraging to hear about the archive work taking place at the museum. 
Bradford Zine Fair has bravely stepped in to the spotlight and has delivered one of the most unique zine fairs in Yorkshire. The emphasis on local culture, environment and diversity has created an essential platform for the talented writers, visual artists and creatives who work outside of the mainstream in this post industrial northern city. 
John Marley