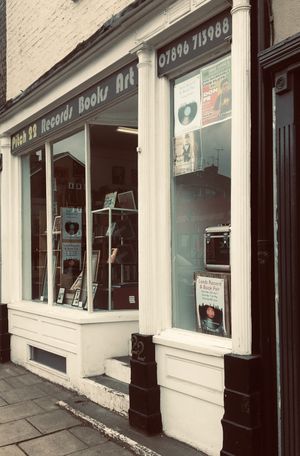 York has always been a stronghold for independent record stores in the North of England. Residents of the city will become dewey eyed and nostalgic when you mention Track Records, Red Rhino, Ark Records, Wild Cat, Inkwell or Hellraiser.  Shops that have supplied the general public's insatiable musical drug habit in the pre and post internet age. 
Residents of many regions can barely locate one pale skinned vinyl dealer to hold off the shakes. The people of York are comparatively spoilt for choice as a fourth independent record shop has popped up on the outskirts of the city. 
Location tells a tale about the difficulties that face brave and passionate vinyl entrepreneurs. One of York's record havens is tiny (and has all the more character because of it) and two have chosen to set up shop outside of the city centre in order to keep expenses at a minimum. These would appear to be smart business moves as the three senior record shops have been open several years. No small achievement in an ever changing digital world. 
Pitch 22 caught this writers attention as he drove around the city on the inner ring road. An illuminated location for a shop wanting to avoid the high rents inside the city walls while remaining visible. The words Records Books Art stood out like a beacon, glowing amongst the bleak landscape of Ford Fiestas and Transit vans. 
Those who are planning a pilgrimage to this holy site of art and culture be warned that it is only open from Wednesday until Saturday from 10am-4pm. For visitors taking a day trip to the city, Pitch 22 is only a 10 minute walk from the city centre but it would be a disappointing journey to a locked door. 
Records Books Art is an accurate description but due to the size of the shop, the selection is, well, select. The records are centrally located in a manner of controlled chaos. Stock is roughly arranged by genre or price although the lack of labelling creates enough tantalising unknowns for hardened crate diggers. Frustration could ensue in a bigger shop but Pitch 22 is cosy enough that an efficient vinyl archeologist can have the excavation work done in 15 minutes. 
After having politely asked what genre wet my particular musical palette, the owner kindly grabbed a trowel and dug on my behalf, finding every scrap of jazz vinyl from the bargain crates for my perusal. This was a worthwhile endeavour as he sold a stack of it at a very reasonable price, along with an irresistible copy of Crescendo International magazine from 1975 for a very reasonable £2. 
Art adorns the walls over a selection of books which are primarily focused on music, modern art, poetry and academia. There is a broad range of content in the music section, covering topics from classical history to amplifier construction and Kirk Hammett guitar transcriptions. Stacks of vintage magazines provide a cheap hit of nostalgia to keep you longing for the glory days of analogue and mullets. 
One of the beautiful things about independent record stores is the personal attention that is lacking from the majority of modern commerce. My visit led to a pleasant conversation about records and education with a promise from the proprietor to contact me if a much sought after record appeared on his racks. A promise rarely given in the faceless world of the internet, or one not believed without eye to eye contact. Make Pitch 22 a destination on your tour of York's record stores. 
John Marley.