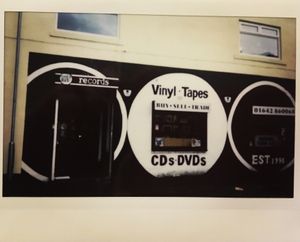 People succumb to the weight of the post-festive world like a national flu epidemic. Grey skies weigh on the spirit and over indulgence weighs on the gut. Attempts to fight off the bug appear in easily abandoned exercise regimes and alcohol abstinence. Great for social media gloating, disaster for struggling pub landlords. 
Instead of treating January as a painful endurance test, perhaps we can embrace it and find its hidden qualities. The streets are quieter, parking is easier and retailers are practically craving our attendance. Go to any smaller British town on a cold and overcast day and you'll find an atmosphere that can be a comforting, post-Christmas reality check. Everything is coloured like a faded childhood photograph. 
Stockton-on-Tees is a market town in the north east that fills some easily spouted stereotypes. Charity shops dominate the high street, small businesses are housed in post-industrial shells and the market is still an important, reasonably priced supply line for the local community. The people are noticeably chatty. If you walk in to a shop, there's a good chance you'll get a conversation with the proprietor. Not a pushy sales pitch, just a friendly chinwag. 
Sound It Out Records is one of the independent business that are so important to the economy of such towns. They may not be turning over millions each year but they attract people like myself to places we might have not considered going otherwise. 
Situated on a small street, next to a boxing academy and across from a cheap and cheerful pub, Sound It Out is a vinyl lovers paradise. The shop was the subject of a fascinating documentary film by Jeanie Finlay. Released in 2011, the film not only told the story of the shop and its owners, it gave a loving and respectful account of the customers and their home town. 
Sound It Out prioritises vinyl over other formats. There is a small section of CDs but in order to maximise room for stock, they no longer provide cases. This is a minor inconvenience but an acceptable sacrifice for the massive selection of vinyl. Most genres are well represented. They have a large amount of jazz, soul, indie, punk and metal records. 
Where Sound It Out really stands out is in its embrace of the 7" record. Many record shops completely ignore the format. Perhaps seeing it as unprofitable, the 7" is not as attractive sitting on a shelf as a shiny gatefold LP with full colour artwork. The fact that Sound It Out stocks 7" records tells its own story. Catering for music lovers and serious collectors, the shop attracts dedicated regular customers who make music a large part of their life. It is not just a shop for young professionals who feel like they should have a Joy Division album on vinyl for their Instagram profile. 
If you plan to visit the shop, put some time aside and take it slowly. The racks are bursting with thousands of records and the staff are happy to chat and offer assistance. If you can't find what you're looking for, I'm convinced they would do their best to find it for you. 
Live music in record shops is becoming a thing of the past. In-store performances used to be a way for the artist and fan to meet and connect, giving the listener a unique attachment to the music. Sound It Out are holding the fort in this respect. I'm yet to attend one of their in-store shows but it's sitting anxiously on my to-do list. 
Go out, embrace the winter weather, feel a chill, rush into the warmth of the record shop and you'll surely feel the benefit. 
John Marley.