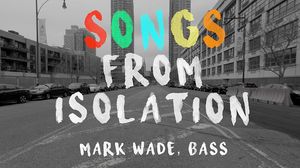 There is no doubt that many music listeners would roll their eyes at the idea of a solo bass project. The bass guitar in particular has had its reputation tarnished by numerous albums where technique has given melody a heavy beating. However, some fine records have been produced which use the bass exclusively. Notably by Jonas Hellborg and Björn Meyer. 
Jaco Pastorius was one of the first and certainly the most influential of the solo bass guitarists. His influence is so overwhelming that hearing the first cascade of harmonics on Mark Wade's Intents and Purposes immediately brings Jaco to mind. Even the double stops on the upright bass have a Jaco feel about them. This is no bad thing and they are executed beautifully by Wade. The composition sounds like the overture to a Film Noir. It moves through a series of dramatic sections including a chorus of lush bowed notes and a sleazy pizzicato figure. Percussive hits fire like gun shots in the distance. 
Wade explores an incredible variety of textures through the five performances. These include bowed lines, bass guitar chords, unison figures and percussion ranging from sensitive brush work to hits with the bow. Distorted electric bass sits low in the mix on A Conspiracy of Lemurs. The angular melody over a hard bop sequence wouldn't sound out of place on a Horace Silver record. Wade trades lines with himself between the 2 basses. Musicians around the world are doing their best to create outlets for their work during the coronavirus pandemic. This brings a danger of sounding mechanical but Wade has managed to keep the music fresh and alive. 
As Wade is capable of playing across the full range of the double bass, the music never sinks into itself. Spanning over 3 octaves, the double bass is capable of great expression and can sit high above the sound of the bass guitar. On Blues In Isolation, Wade plays swinging melodic lines before introducing a bowed melody that will be familiar to most jazz fans. 
Teri Leggio Wade joins on vocals for a version of Nothing Like You which famously appeared as the finale to Miles Davis' album Sorcerer. Hearing it in its original environment never fails to bring a smile to this reviewers face and nor does this interpretation. The husband and wife duo keep the arrangement true to the Davis recording with Wade adding bowed chordal figures. 
Do not recoil from the idea of a solo bass album. In the right hands, both of the basses can sing pretty melodies, create a dazzling array of sounds and be emotionally expressive. Fortunately, Mark Wade has the right hands. 
John Marley.