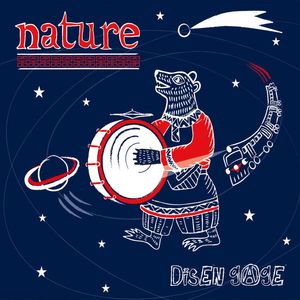 Russian prog-rockers Disen Gage have taken a step away from their usual brand of sonic experimentation to create an immersive and exploratory representation of three distinctive worlds. Nature, released in 2018 on the Addicted Label, is split into three extended tracks. 
The first of these entitled Planets, sucks the listener straight into a swirling vortex of sound. Distant electronic beeps can be heard through the radioactive wasteland. There is a rhythmically hypnotic rumble which becomes increasingly terrifying as it engulfs all in its path. As it disappears to nothing, airy wind sounds play obscure melodies over an almost subconscious drone. Chiming bells sound like a melancholic reminder of human life on a devastated planet. 
As more sounds enter the piece, there is a cross over of rhythms which brings movement and a feeling of propulsion. These rhythms cleverly develop into a foundation for funk sax that emerges from a different dimension. They are fragments of human music heard amongst a spiders web of radio signals. 
Trains begins with the familiar screaming of steel tracks barely coping with the stress of heavy industry. The melodies within these industrial screams act as a reminder of the musical qualities inherent in all situations and environments. Tones are stacked in layers, producing harmonies that don't conform to any western tradition. Although there is a blackened atmosphere on this track, the distant sound of conversation has a meditative and comforting quality. 
Animals begins with an electronic pulse which may represent a living subject. Sounds of breathing and water act as counter rhythms to the throbbing centrepiece. The intensity of these rhythms creates an edgy atmosphere as though an animal is desperately on the hunt for food. 
As the soundscape takes on a lighter quality, electronic sounds whistle and chirp like a futuristic simulation of avian life. Wolves howl relentlessly in the distance, reminding us of the ever present threat posed by nature. Disen Gage make a brief return to familiar prog-rock territory as shimmering guitar chords enter the track. Rising like the sun, the guitar brings light to the darkened landscape but moves menacingly towards a conclusion of distorted riffing. 
Many regard noise and industrial music as a challenging listen. However, if it is well constructed then it is like an audible story. An all consuming tale which grabs the listener and doesn't let go. That is what Disen Gage have achieved on Nature. 
John Marley
https://noname666.bandcamp.com/album/nature