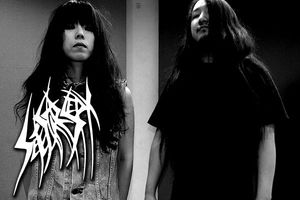 Japanese duo Sete Star Sept are one of the most active bands in the international noise/grind scene. The band have a release rate that defies belief and they consistently maintain a relentless live schedule. Hiss and Hum caught up with drummer and founder Kiyasu to discuss the bands influences and current plans. 
1. Sete Star Sept originally started as a harsh noise band. What prompted the change to a noise/grind style? 
At the beginning we were playing in a style like shouting harsh noise backwards. There was a limit to expressing power and sound with just pedals and vocals. Originally I was a drummer and it was changed to a noise/grind style because it is a more violent sound to express banging the drums. 
2. The harsh noise style is often associated with Japanese artists such as Merzbow and MSBR. Why do you think so many of the leading figures in noise music come from Japan? 
It is my opinion that there are many people who feel healing from listening to noise music due to factors such as long work hours and high population density in the country of Japan. For these reasons there are many environments where noise artists are likely to grow. 
3. You cite free jazz as an influence on your music (which Japan also has a rich history in due to the likes of Kaoru Abe & Masayuki Takayanagi). Which artists do you draw influence from and how does this manifest in your music? 
When I was a teenager, I listened to many Japanese 60'/70' free jazz like Yosuke Yamashita trio, Kaoru Abe, Masayuki Takayanagi and Lost Aaraaf. At that time I listened to a lot of overseas grindcore, death metal, black metal and so on. I felt that musically the most violent and intense music was Japanese free jazz at this time. At the same time, I became interested in music that is not dominated by a certain tempo using a metronome. Then I listened to noisecore like Meat Shits, Anal Cunt, The Gerogerigegege etc. 
4. Would you consider collaborating or releasing a split with a free jazz artist or ensemble? 
Sete Star Sept doesn't have any plans with a free jazz artist. I would like to release more works, pursuing more Sete Star Sept sound by two people. 
5. Although your music always follows an overall noise/grind sound, there is a great deal of variety in your releases. Some being more riff orientated than others. Do you consciously attempt to keep variety in your compositions? 
I'm always thinking of different approaches in our compositions. I always want to give stimulus to fans who listen to our music. I would like to try new ways and try making new works. 
6. How much of your music is freely improvised? 
It depends on the work. There are works that are 100% composed. Works such as split tapes are improvised for the most part. To summarize, about half of the work is improvisation. 
7. Sete Star Sept have an extensive discography and do a great deal of touring. Do you find it difficult to maintain this level of productivity and enthusiasm? 
It is not difficult because I am thinking about music everyday. It is natural that I should work this much. 
8. Does this level of dedication to a non-commercial genre of music make it difficult to survive financially? 
In terms of money, we always works in extreme conditions. Fortunately, thanks to the continued support of our fans, our activities are ongoing. 
9. Noise music is treated with suspicion and contempt by many listeners. Do you view your music as an artistic endeavour or as an anti-mainstream statement? 
I never thought of such things. What we are doing is not music for the masses, so it is okay for others to think about it. 
It would be fine if some people say they love it. 
10. Thanks for the interview! Please tell us about any tours and releases you have coming up this year. 
Regarding releases, please check website and SNS at any time. 
http://www.7s7.org/ 
https://www.facebook.com/setestarsept/ 
About our tour, we are going on a big european tour in this summer.  
------------------------------------ 
SETE STAR SEPT summer tour in 2018 
* RUSSIA & EASTERN EUROPE tour 
July 13 (Fri) Vladivostok, RUSSIA 
July 14 (Sat) Yakutsk, RUSSIA 
July 15 (Sun) Saint-Petersburg, RUSSIA 
July 16 (Mon) Moscow, RUSSIA at Model T 
July 17 (Tue) Moscow, RUSSIA at Model T 
July 18 (Wed) Rostov-Na-Donu, RUSSIA 
July 19 (Thur) Tbilisi, GEORGIA 
July 20 (Fri) Kutaisi, GEORGIA 
July 21 (Sat) Samsun, TURKEY 
July 22 (Sun) Ankara, TURKEY 
July 23 (Mon) Izmir, TURKEY 
July 24 (Tue) Bursa, TURKEY 
July 25 (Wed) Istanbul, TURKEY 
July 26 (Thur) Xanthi, GREECE 
July 27 (Fri) Thesaloniki, GREECE 
July 28 (Sat) Skopje, MACEDONIA 
July 29 (Sun) Sofia, BULGARY 
July 30 (Mon) Cluj-Napoka, ROMANIA 
July 31 (Tue) Uzhgorod, UKRAINE 
August 1 (Wed) Ternopil, UKRAINE 
August 2 (Thur) Kyiv, UKRAINE 
August 5 (Sun) Brest, FRANCE at Festival Visions 
August 6 (Mon) St.Gallen, SWITZERLAND 
August 7 (Tue) TBC, SWITZERLAND 
August 8 (Wed) Zurich, SWITZERLAND 
* UK tour 
w/Atomck (UK) 
September 5 (Wed) Newcastle, England 
September 6 (Thur) Glasgow, England at Bar Bloc 
September 7 (Fri) Nottingham, England at SOAN 
September 8 (Sat) London, England at Chimpy fest 
* WESTERN EUROPE tour 
w/Brutal Blues (Norway) 
September 9 (Sun) Rotterdam, Netherlands at WORM 
September 10 (Mon) Brussels, Belgium at Barlok 
September 11 (Tue) Paris, France at Instants Chavirés 
September 12 (Wed) Tours, France 
September 13 (Thur) Bordeaux, France at Void 
September 14 (Wed) Bilbao, Spain at Orbeko Etxea 
September 15 (Thur) A Coruna, Spain at Nave 1839 
September 16 (Fri) Portugal 
September 17 (Sat) Lisbon, Portugal 
September 18 (Sun) Madrid, Spain 
September 19 (Mon) Spain 
September 20 (Tue) Barcelona, Spain 
September 21 (Wed) Montpellier, France at Le Kjbi 
September 22 (Thur) Lyon, France at Le Farmer 
September 23 (Fri) Geneva, Switzerland at Cave 12 
September 24 (Sat) Renens, Switzerland at L'Aencre 
September 25 (Sun) Fribourg, Switzerland 
September 26 (Mon) Besançon, France at Les Passagers du Zinc 
September 27 (Tue) Tübingen, Germany at Epplehaus