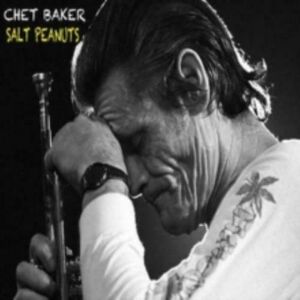 Chet Baker has become a figure of great reverence and of great tragedy. Live recordings from the latter years of his career show us why. Baker was an active participant in the European jazz scene in the 1980's until his untimely death in 1988. Many of his great recordings were behind him, yet he was still able to produce moments of unquestionable beauty. 
Recorded in 1981 over two consecutive evenings at The Salt Peanuts Club in Germany, this unearthed live recording catches Baker with a unique small ensemble. Joined at the front of the band by Jon Eardley on flugelhorn and Bob Mover on alto saxophone, Baker is allowed to demonstrate his ability as an accompanist as well as a leader. 
Eardley has a tone and delivery which is similar to Baker's, making it difficult to differentiate between the musicians in the ensemble passages. However, the solos are immediately identifiable as Baker. He was certainly a capable bebop trumpeter, but he was unmatched when composing an improvised sonnet. There is an undeniable, effortless beauty in Chet's lines. One which is hard to analyse and it would feel like blasphemy to attempt it. In the accompanying booklet, it is mentioned that Lester Young was a big influence for Baker. It is easy to draw a line connecting the two men.  
The bop sax lines of Bob Mover are a nice contrast to the cooler sounds emanating from the brass. His solos stand out on mid tempo swingers such as Resonant Emotion where he pushes the limits of the instruments range and constructs long streams of semi quavers. His sharp, biting tone sets the mood of Round Midnight perfectly and follows a lineage from Bird to Cannonball. 
Baker's vocals on My Ideal are still delivered as delicately as they were in his past. Yet he sounds fragile and older than his years. The cracks in his voice have been etched by decades of questionable treatment.   
The leader gives a unique vocal performance on My Funny Valentine, the standard with which he is most associated. He stays for longer in the higher register and sounds somewhat strained. His trumpet playing and vocalising have always been mirrors of each other. It seems that where the high notes are still comfortable on the trumpet, they are less so in the vocal chords.    
Dennis Luxion's piano is far away in the mix but he demonstrates some fine playing. He trades confidently on Ray's Idea and provides well spaced harmony throughout the album. All of the musicians are given a chance to stretch out on an up tempo version of If I Should Lose You which climaxes with the horns engaging in a playful battle. The drums have gone as Burkhard Ruckert was only present on the first of the two evenings. With respect to his capable drumming, he is not greatly missed. Using rhythmic skips and delicate articulation, bassist Rocky Knauer provides enough propulsion to keep the band pushing skywards.  
Salt Peanuts is a valuable document for Baker fans. It captures his playing in a unique ensemble and shows that his unparalleled skill of melodic construction never left him. His voice may have aged but he can still convey the essence of a song like few others could. 
John Marley.