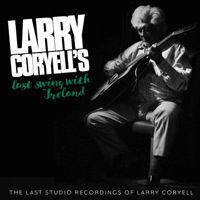 Larry Coryell left us with an eye watering discography. An early pioneer of fusion guitar playing, Coryell recorded with many of the jazz greats from Chet Baker to Charles Mingus. As a musician who was open to a vast array of musical sounds, a new album is always welcome as it reveals something new about his encyclopaedic knowledge of harmony, melody and the instrument itself. 
Last Swing With Ireland begins with Duke Ellington's classic ballad In a Sentimental Mood. It takes a certain level of bravery to begin an album with a ballad. To pull a listener in with melody is a more complicated affair than doing it with energy and fireworks. Coryell's acoustic sound calls on a number of styles and techniques. He embellishes notes with a gypsy jazz flair and uses harmonics to great effect. Bassist Dave Redmond answers Coryell's harmonics with ones of his own. His solo is spacious and melodic and is played with a woody and direct tone. Coryell backs the bass solo with chords which rock back and forth between the high and low registers, like you are being lulled into submission. Redmond cleverly alters the harmony under the melodic line which subtly draws the ear. 
Coryell's own solo is beautifully paced. Longer lines are counterbalanced by playful approach notes, gradually developed melodies and rhythmic double-stops. You can occasionally hear Coryell vocalising behind his guitar playing. Not in the way that many jazz musicians do by singing/grunting along, it is more like breathing in anticipation, as though he were playing a horn. The piece concludes with a fascinating cadenza that has elements of classical harmony and the free improvisation of Derek Bailey. 
Morning of the Carnival begins where the previous track left off, with a solo guitar introduction bulging with ideas. A great deal of Coryell's appeal is in his ability to take complex and challenging musical ideas and make them palatable. He demonstrates that wonderfully in this performance by stacking diminished patterns on top of one another. Extending the range of his guitar with artificial harmonics, Coryell makes the final melody sound fragile, as though it would shatter if you concentrate on it too hard. 
The energy level is given a boost with Charlie Parker's Relaxin at the Camarillo. Drummer Kevin Brady provides an exciting introduction for Coryell's overdriven take on the angular melody line. Redmond plays a solo full of bop language and rhythmic manipulation. Coryell takes a different approach, using lines straight out of the rock and roll canon. It's just another example of his willingness to incorporate all styles into his sound. His solo peaks with a series of sweep picked arpeggios. 
Someday My Prince Will Come is played with a sinister undertone. The rhythm section pedal a note relentlessly until the final section of the melody where the brightness of the composition is given a window of entry. Coryell asks single note questions and gets a chorus of harmonic answers from himself, like a man talking to all of his inner voices at once. The performance which has built in energy with the enjoyable trading between Coryell and drummer Kevin Brady, dies back to its sinister beginnings. It appears that the prince arrived but it wasn't the romance which was dreamt of. 
Dave Redmond lays down a dominating 12/8 groove which underpins The Last Peavey. The drums beat a powerful 4 while Coryell attempts to annihilate his guitar. The Last Peavey seems an appropriate name for someone pushing their amplifier to the limits. The piece is based on a 12-bar blues and Coryell plays firmly in that tradition, albeit with plenty of distortion. Coryell's improvisational freedom is akin to that shown by Buddy Guy. Another musician who refused to conform to expectations. Brady is showcased in an improvisation as Coryell and Redmond mark out the form with violent stabs. Based on an ostinato with a changing time signature, 369 provides a showcase for all of the musicians to take extended solos. 
Last Swing With Ireland is a fitting punctation at the end of an impressive recorded legacy. It shows Coryell's command of the guitar and his refusal to be confined to one musical dialect. Being a well travelled man of the musical world, he spoke in a language all of his own, but one which everyone can understand. 
John Marley