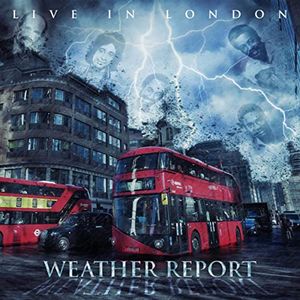 At a time when many of us cannot go to see musicians perform, a live album from one of the greatest jazz ensembles of all time is a welcome gift. Recorded at 'some point in the eighties', Live In London captures Weather Report in an exuberant and forceful mood. 
Corner Pocket bounces into action with an electronic New Orleans groove. The bass has a prominent position in the mix. Given one of the most daunting positions in jazz history, Victor Bailey's virtuosity is of a different nature to his legendary predecessor Jaco Pastorius. Using synth effects, he lays down a formidable groove while moving with lightning speed across the full range of the bass. However, he also incorporates slap techniques of which he was a great master and through this, he finds a way of creating a separate identity to the legendary Jaco. Bailey's playing is so dominant in the mix that Shorter's solo seems like a call and response with the bass. 
The mastery of playing a tune with very little chord movement comes from building excitement while shying away from self indulgence. Zawinul is particularly strong in this respect. His solo is full of long deep breaths and he has a varied sonic palette. His lines erupt like animated sentences barked out in conversation with a voice that only he can hear. 
The mysteriously titled Unknown has an equally mysterious feel. It would make a great accompaniment to a futuristic take on a 50's spy thriller. Bailey's insistent pulse, coupled with Shorter's crescendos and the sparse rhythm section makes the air dark and claustrophobic. If the instruments were characters in this thriller, the sax would be the central figure. Shorter plays the detective, desperately attempting to stay on top of the case. The bass throbs antagonistically and the percussionists rattle like creatures kicking cans around the city streets. Zawinul contributes industrial screams of machines tortured by oppressive heat and overwork. Wayne Shorter is a musician who is capable of playing many characters. Just compare his work with Weather Report to his highly regarded album Speak No Evil. He uses these contrasting voices to great effect on this album. He creates an audible battle between good and evil, calmness and panic. 
Weather Report are not a band known for their forays into swing. However, on the aptly titled Fast City, they flex their well honed muscles over Omar Hakim's nuclear drumming. His playing, which almost obliterates everything in its path, continues the tradition of powerful jazz drummers from Gene Krupa to Elvin Jones and Tony Williams. Bailey ramps up the tension with a series of pedal notes which lead into a drum solo. It's the aural equivalent of watching a reactor as the needle pushed further into the red. Hakim's extensive solo goes through a variety of stages, climaxing with an outburst from an understandably rapturous audience. 
Vocals appear from an unidentified source on Where the Moon Goes. The vocals do not stand out as a high point of the album but they do provide a welcome change of texture. Percussionists Mino Cinelu and Jose Rossy sit on a groove which contributes greatly and never dominates. The drone, which is a feature of many folk musics, coupled with the sound of Zawinul's fiddle inspired synth solo is reminiscent of some of the Nintendo soundtracks of days gone by. Perhaps Zelda should have been given a saxophone rather than an ocarina. As the music calms down, the audience let out a roar of laughter, leaving us wondering what visuals prompted such an outburst. 
Although there is always a feeling of joy radiating from Weather Report, mainly due to their obvious enthusiasm for performing, much of the music on this album is based on darker harmonic moods. The final track is a smile-inducing return to the familiar sounds of their most highly regarded album, Heavy Weather. Closing with a short burst of joyous energy, Weather Report leave the audience cheering for more. 
John Marley