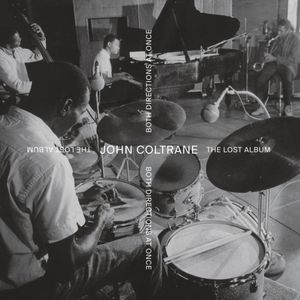 The release of previously unissued John Coltrane studio recordings is met with a frenzied enthusiasm which few events in the jazz world could match. One of the great musical innovators of the twentieth century, Coltrane pushed the limits of harmonic exploration and subsequently tested the limits of his instrument, his musicians and his audience. 
On March 6th 1963, Coltrane took his most famous ensemble to Rudy Van Gelder's studio in New Jersey to record before heading on to a live engagement at Birdland. The performances that resulted from the session remained in obscurity until a copy was found in the collection of Coltrane's first wife Naima. 
The first of Coltrane's compositions on the album Untitled Original 11383 is a variation on the standard 12-bar blues. An angular melody makes way for the band leader to launch into a soprano solo full of exploratory thematic development. McCoy Tyner chooses to lay out of the music on many occasions, loosening Coltrane's harmonic shackles without completely taking them off. Jimmy Garrison uses his bow to build a structure of uptempo quaver lines. Occasionally playing chords, he defiantly produces his own harmonic context. Striking the strings with his fingers as he sets aside his bow, he leads back to the melody with a chorus of commanding walking bass. 
Nature boy is the first of two jazz standards on the album. Played as a mid-tempo swing, Coltrane dispenses with the recognised chord sequence. Instead, he elaborates on the melody over static harmony. Garrison plays a hypnotic 6/8 groove under Elvin Jones' swing. The drummer shows us the blossoming American flower which grows from fertile African soil. 
Untitled Original 11386 produces one of the most memorable melodies on the album, one which reappears as an interlude between solos. The rhythm section switch from a bright latin to a hard driving swing with perceived effortlessness. Listening to Jones play is like hearing two drummers at once. The big beats are the bricks and mortar while the little beats are the fine furnishings. The independence between Tyner's hands is breathtaking. His off-beat stabs in the left hand are a lesson in propulsion which aspiring jazz pianists should not ignore. Garrison and Jones enter a soloistic dialogue which is sharp and angular. They are like two boxers, throwing jabs while the other pauses for breath. 
Where many tracks on the album are modal in nature, Vilia moves through a series of bright harmonic pathways. This has a noticeable effect on Coltrane's playing. He sounds perfectly happy to find the sweet melodies which float comfortably over the bubbling rhythm section. The solo's are kept short and the whole performance nods back to the quartet's recent past. 
On Coltrane's most recognisable modal melody, Tyner sits out again. Coltrane was known for playing extended solos on Impressions but this one is kept relatively short. The solo has moments of melodic repetition which non-musicians can associate with, yet he flexes his muscles. He is like an escape artist becoming increasingly intense as he focuses on freeing himself. Yet it is not steel that binds him but the limitations of harmony and his own instrument. 
The appropriately titled Slow Blues has no recognisable theme. Coltrane desperately tries to extend the range available to him at the top of his tenor. Some of the soloistic devices are mathematical in nature but not in a purely academic sense. As ideas enter his consciousness, you can sense a duty to inspect them further before the moment has gone. One example of this is when he creates a melodic answer phrase to himself. The top line moves in one direction and the bottom goes the opposite way. Interestingly, Tyner waits until the end of Coltrane's solo before he plays a note. His improvisational approach is a contrast to Coltrane's. He lies comfortably on a bed of blues-isms and sounds content to observe Coltrane's experiment, while keeping one hand on the fire alarm. 
One Up, One Down allows Coltrane and Jones to engage in three fierce bouts of trading where Jones's power and fearlessness matches Coltrane's blow for blow. Garrison keeps a driving walking line through his solo, as bass players so often do in up-tempo compositions. The amount of skips, strings pulls and accents are increased to keep the piece moving at full throttle. 
Both Directions at Once is a title which perfectly illustrates the content of the music. As Coltrane looked into expanding the limits of jazz improvisation, he was still content to produce beautiful renditions of ageing standards. This album is not only an important historical document, it is an album that demonstrates the musical empathy which a jazz ensemble is capable of. 
John Marley