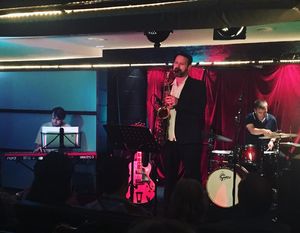 Ricardo Alvarez has played a prominent role in the York jazz scene for many years. Since travelling to the city for his postgraduate studies, he has earned a reputation as a capable improviser and a much loved educator. His farewell concert has a bittersweet taste. The audience are delighted to hear their friend perform his original compositions before returning to his home country with a PhD, however, he will certainly be missed in the closely knit jazz community. 
The quartet open the concert with Alvarez's modal jazz composition Huay Not. Weaving outside lines around the harmony of the piece, the saxophonist plays a muscular solo which is full of passion. Pianist Alec Robinson engages the audience with a strong sense of melodic and rhythmic development. At the heart of the composition lies a pulsating Chilean rhythm which is propelled by drummer John Settle and bassist Emlyn Vaughn. 
As the first set progresses, Alvarez settles into a tone that is powerful but full of breath, allowing a human quality to travel through the horn. Both Alvarez and Robinson show great restrain in their improvisations, choosing to place melody above all else. 
Many of the compositions utilise uncommon time signatures. One of these, Red Rooster, has a strong Spanish flavour. The semi-tonal movement of the chords is a foundation for a phrygian melody. This Latin springboard launches Alvarez into an impassioned exploration of the tenor saxophone's range. Settle creates a marching rhythm, firstly on the toms and then on the snare, becoming a strict disciplinarian who keeps the troops in check. 
Two of the pieces in the first set are dedicated to Alvarez's family members. The first is for his wife, a delicately paced ballad which evokes the mood of Thelonious Monk's 'Round Midnight. With his eyes sealed shut, the band leader carefully constructs a heartfelt solo. Dedicated to his daughter, Waltz For Sophie has a lilting nursery rhyme melody. Vaughn embarks on a commanding improvisation, bringing his nimble lines to a halt with a series of double stops. 
John Settle takes two thrilling solos during the concert. The first of these comes in Rue Des Lombards, a piece that utilises jazz Manouche harmony with Latin American rhythm. Settle makes his toms sound like timbales as he executes a series of precision rolls, coloured with fragments of hi-hat. 
The second half of the evening is dominated by an original jazz suite which travels through moods, tempos and time signatures. Showing his authority as a leader, Alvarez bounces up and down as he demands more power from the ensemble. 
Once the formal part of the concert is concluded, students and colleagues join the band to perform standards. Packed to the rafters until the end of the evening, there is no better testament to the popularity of Ricardo Alvarez as a fellow musician, teacher and friend. 
John Marley.