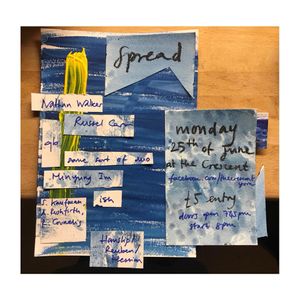 The Crescent Community Venue in York is facilitating a cultural development in the city. Venues often design their programmes and branding around a particular genre. In a difficult financial climate, many have to bend their original line of travel in order to survive. The Crescent is a different entity. Over the past 12 months they have hosted everything from hip-hop to big band jazz and prog-rock. This willingness to welcome everyone with open arms has filled a gap in the city's music scene that has existed for too long. 
Having a venue in the city that is open to experimentation has offered new performance opportunities to musicians working outside of the mainstream. Organised by students and lecturers from York University, Spread has established itself as a platform for improvisers, visual artists and spoken word performers. There is a sense of excitable intrigue when you enter the venue and see the vast array of electronic equipment and acoustic instrumentation dispersed across the floor. It is a rare and thrilling feeling to go a gig having very little idea of what you will experience. 
The evening opens with a heart warming short film by Minyung Im which focuses on two North Korean women cooking dishes from their home country. Although the interviews are centred around cooking, it seems this is a catalyst for the narratives of deprivation and loss which have played a dominant role in North Korean life. Both interviewees discuss the food shortage that occurred in the country in the 90's and explain how this led to a high use of tofu as a meat substitute. 
Soonyo, who is the second woman in the film, has an infectious personality; singing sweetly as she cooks and chewing loudly on her freshly prepared dish. When talking about her home country, there is a sadness as she reminisces about the lack of food and free speech and even more so when she opens up about the positive aspects of the country. A narrative which is not often heard in the west. The film becomes 3D when the audience are unexpectedly offered food samples which are enthusiastically received. 
Lynette Quek and Gaia Blandina take to the floor, sitting studiously behind two laptops. The visual collage projected behind them flows down a dreamy stream of everyday imagery, colourful design and personal memory. The duo show great restrain in bringing certain aspects of the visuals to life with electronic improvising whilst not being afraid to leave space and silence. Blandina uses her cello effectively. She pushes the range of the instrument with harmonics and unconventional tuning. Her slapping strings dance around Quek's futuristic typing. 
Crouched at the side of the performance space, Russell Carr pushes his small Marshall amplifier to its limits. His keyboard resonates and distorts, creating an engulfing simplicity that cuts right through to the soul. His screams and moans sound otherworldly as though they are calling from a coexisting dimension. The screams transition in to spoken word that uses local colloquialisms and alliteration, creating a defiant opposition to the futuristic soundscape. 
It can be easy for events such as this to descend purely in to 3 hours of stony-faced chin scratching. That's why Catherine Laws and James Whittle's Some Kind Of Duo is such a welcome addition to the evening. The performers create a driving percussive rhythm using objects placed forcefully on to their desks. Each one recites lyrics delivered in a monotone which places their voices firmly in the percussion section. Laws' vocal delivery wouldn't sound out of place on a record by revolutionary punk outfit Crass. In the second of their two pieces, the duo synchronise words, shout over each other and slam their objects with increasing intensity like two siblings vying for their parents attention. 
The first half of the evening concludes with the group improvisation of Ish. The collective is completely acoustic aside from Quek's laptop and small portable speaker. The group tentatively embark on an improvisation which evokes images of small creatures mischievously scurrying around the forest floor. Occasional moments of traditional harmony occur and sound all the more powerful because of their prolonged absence. The stabbing electronics drive through a tiny speaker, comparable to the sound of a battlefield heard over a faulty radio. The combination of the violin, guitar and accordion convinces this listener he is hearing a non existent banjo. 
The second half of the evening begins much more forcefully than the first. Hanslip/Reuben/Hession create a barrage of sound which is impossible to ignore. Detractors of free improvisation often speak of the lack of talent and technical skill involved in the music. Maybe they could be cured of these prejudices by watching veteran improviser Paul Hession. He manoeuvres around the kit with a restrained fury and technical capability that would have many drummers running to their practise rooms. One of the joys of the trio is that you can't always tell who is making which sound. Reuben's electronics cross in to the sound of Hanslip's saxophone and vice-versa. At one point, the electronics omit a squeal so piercing that it causes the saxophonist to look suspiciously over to his fellow improviser. 
Nathan Walker gives the audience a chance to reset their nerves as he recites vivid spoken word over a rumbling drone. He uses subtle movements to bring the hypnotic pitch down. Every small change draws the audience in further. As the drama increases, he enters in to a creeping dialogue with his own voice. One shouts, the other whispers. 
The evening is brought to a close with dancing imagery, poetry centred around love and Deliveroo workers, and a disturbing film about black mould. Sam Kaufman, Alex Rushfirth and Rosalie Counelis use themes of comedy, depression and love to send the audience away with plenty to consider. 
In a city where history and tradition play a dominant role in the cultural calendar, nights such as this are a welcome shot of adrenalin in the arm. Hopefully this will lead contemporary music making out of the exclusivity of the university and in to the community. 
John Marley.