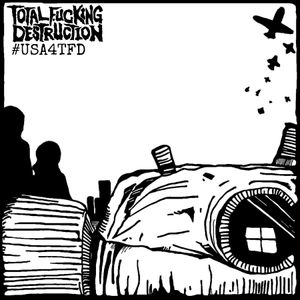 In retrospect, choosing to review this record first thing on a Monday morning may not have been the wisest idea. As soon as you press play, short blasts of noise fly out of the speakers like strategically placed jabs. Before you can compute what has happened, the onslaught begins. You are being pummelled to the floor by a hailstorm of body blows. Did you ever see Rocky III where Rocky gets annihilated by Clubber Lang? Now you can find out what it was like to be Rocky in that first fight. 
Musically, the band largely follow the righteous path of power-violence and hardcore. However, there are just enough unique subtleties in the sound to make TFD stand out from the pack. The drums are played with a high level of precision but they groove with a slightly swung jazz feel. When the traditional thrash riffs appear, they are accented by relentless double kicking. 
The guitar parts are never content to merely double up on each other. They expand across the instrument, alternating high and low registers. This has the effect of filling out the sound whilst avoiding feeling sludgey and bogged down. TFD are more of a small battleship than an oil tanker. 
On tracks such as Grotesque Fornication and Anarchy Chaos Collapse Comedy, the vocals are reminiscent of Hirax Max's delivery in Scholastic Deth. Nods to the hardcore tradition come in the form of unison vocal shouts, emphasising track titles. There is a great variety in the use of vocal techniques. On Is Your Love A Rainbow, sung vocals underly the piece, bringing an eery atmosphere with them. Ranted vocals melt in to the soundscape like the inner voice of a man descending into madness. 
A great deal of the band's power comes from the technical execution of the songs. The album is well produced and you can hear all the parts clearly. There is nowhere for the musicians to hide but in all honesty, they don't sound afraid to me. 
You get the impression that there is a love for classic metal amongst the band. Little clues appear, such as the harmony guitar of Hacksaw and the Germanic thrash wails of Mother's Meat. 
The journey into madness is complete with the penultimate track Bugs which is a short interlude of spoken word paranoia. I can vouch for the fact that #USA4TFD is a better Monday morning wake up call than any amount of caffeine. There is so much packed in to such a short space of time that your brain can't possibly ignore it. 
John Marley