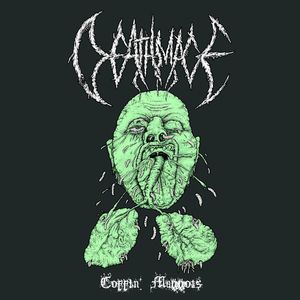 The metal world has moved into two distinct camps. Youtube is flooded with displays of attention grabbing virtuosic wizardry which push the boundaries of instrumental technique to the limit. On the other hand, there are those who revel in the tradition of death metal. It is not necessarily created purely for nostalgia or to profiteer from those who look back with rose-tinted spectacles. It is out of a love for the punishing music, the colourful imagery and the hidden humour that has entertained metalheads and annoyed moralists for 30 years. Deathmace sit comfortably and unashamedly in the second camp and they have crawled out of the swamp to deliver two tracks of raging old-school thrash. 
Coffin' Maggots is a driving mid-tempo stomper which is seemingly influenced by Michigan grindcore gods Repulsion. Yuma Murata barks the lyrics like a dog who is growing frustrated with being tied up. As the lyrics are about the body being consumed by maggots, it is appropriate that Murata punctuates each section with a vocal vomit. The track kicks into gear with a blasting final section where drummer Andy Hayes demonstrates his impressive death metal technique. 
Nuclear Soul Stealer, written by fellow Yorkshire men The Vexed, tells a furiously brief tale of annihilation. One that has been told many times before but which metalheads are still more than happy to hear. It's the death metal equivalent of primary school children sitting around the teachers ankles waiting to hear Alice In Wonderland one more time. The listener is pushed head first in to a classic thrash rhythm which accelerates into a blasting snare for the choruses. The track breaks down to the sounds of Jack Bamber's crunching bass tone. Screeching guitars hover round him like radioactive atoms, ready to turn his insides to liquid. 
Both of these tracks have pop arrangements. I don't mean they are likely to collaborate with Kylie. They have a familiarity of verse-chorus structure which so much modern death metal lacks. This makes the tunes catchy, memorable and, dare I say it…fun. Deathmace are celebrating the history of a music which they obviously love and understand and are doing it with originality. In a world of constant progress it is good for the mind to hear something new, yet familiar. My only complaint is that I listened to it digitally. Where is the cassette release? 
John Marley